STARKENMANN FAMILY CONSULTING
Starkenmann Family Consulting organization combine deep science experience and dynamic entrepreneurship to offer customized consulting services. For 40 years Christian has been dedicated to scientific research and development at Industry, for the leader in the flavor and fragrances industry. Based on family values and high quality Swiss standards, we are committed to jointly building sustainable products with responsible organizations.
Malodor Control
40 years of R&D in Fragrance industry
Aroma & Flavor Generation
40 years of R&D in Food Flavor and Food Technology
Years of experience at your service
Christian worked at Firmenich SA in R&D and finished his career with the title of Distinguished Scientist. Through his career Christian has developed reaction pathways for the synthesis of flavors such as chicken, chocolate and caramel. He has excellent comprehension of aroma and flavors. Through years of  research into meat and onion flavors, he has developed a strong expertise in sulfur compounds. Because sulfur compounds are also perceived as malodors he became an expert in body odors and toilet malodors. Christian's research has been published in numerous high impact peer reviewed journals.

Discover Christian's new book

Dr. Christian Starkenmann
Distinguish Scientist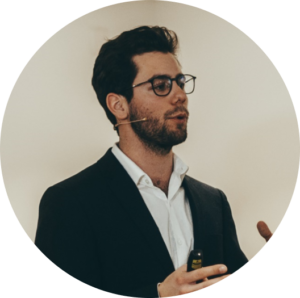 Olivier Starkenmann
Project Manager
A scientist's life story
"Are we born scientists? To become a successful scientist we need to have a mind-set based on curiosity, then life's opportunities, work and building a passion around a personal interest do the rest. My scientific career gradually developed as an interwoven web around odors and taste. The first success was a synthetic route to produce chicken flavor which has been in commercial production at a multi-ton scale since 1995. The search for a deeper understanding of onion flavor gave me the in-depth scientific basis which was then applied to other sulfur odorants. This led on to demonstrate that the metabolic products of mouth bacteria's can strongly influence taste perception. These results were cited in popular scientific publications such as "Science & Vie" and "New Scientist". Continued research on sulfur compounds opened up ground-breaking areas of research, for example, the discovery of the precursor of transpirol, a sulfur compound unique to the human species. This topic also created a great deal of interest in the mass media and was reproduced in the "New Scientist" and "The Washington Post". This long career in fundamental science would not have been possible without the constant and strong support of Firmenich and their R&D management."
Dr. Christian Starkenmann